A Little Bit About Mark Adams and Adams Painting
A Few of Our Clients

Eaton Athletic Fields: Fieldhouse
WPAFB: Thermal Chamber
Silfex: Interior Painting
Dunham Sports: Interior Painting
Bolivar Lodge: Exterior Painting
Click Here for detailed list of client Jobs
I am a painting contractor that grew up in my father's painting business where I helped out through my mid teens. After my father closed his business and went to work for a large union company, and then eventually became an apprentice instructor for the Dayton Cincinnati Union Painting Apprentice Program. I went on to work for my father's competitor where after graduating from high school, I started my own painting business.
The Adams Painting Family Consists of
"The majority of my employees are not related; however I see them as an extension of my family."


Mark Adams: Owner/Estimator/CEO

Steve Adams: Superintendent/Painter, Paper Hanger, Drywall & Plaster Repair

Bill Staud: Crew Leader, Painter

Nick Staud: Apprentice Painter

Ronnie Pietro

Michael May: Apprentice Painter

Butch Branham: Carpentry & Plumbing

Kenny Rader: Electrical

Theresa Schwartz: Secretary

Brenda Lee
Click Here to see the faces of Adams Painting!
Mission Statement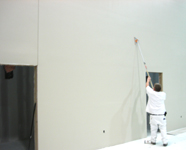 To provide a variety of paints and coatings for a wide range of applications. Where a customer can get the highest quality job for the fairest price through which long business relationships can be formed.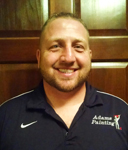 We chose to base our business out of the Eaton Community because we have found it to be a very inviting and sharing community. A lot of the values that we personally hold dear for our family and business are predominantly shared in the community.
For example, hard work, commitment to God and family, as well as sharing leisure time in the community.